Daegu-Gyeongbuk Free Economic Zone
Transforming from manufacturing industrial complex to high-tech convergence medical industrial complex
/portal/en/dgfez.do
Daegu-Gyeongbuk Free Economic Zone


Transforming from manufacturing industrial complex to high-tech convergence medical industrial complex
The DGFEZ is armed with Korea's knowledge-based industry and ideal service infrastructure. It offers development land, R&D facilities, commerce and residential areas with a focus on IT convergence, transport components and medical businesses. It is located in the heart of Korea's largest automotive cluster and a center of IT/SW, healthcare and steel industries. The area also boasts high-quality human resources.
Designation Date

2008.5.6

Development period

2008 to 2022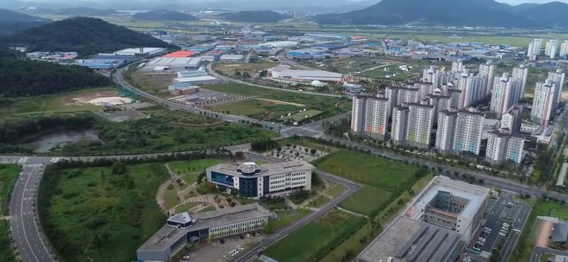 Advantages
Home to Korea's leading industrial clusters
The DGFEZ is at the heart of "Auto Valley," connecting automotive electronic parts firms in Gumi, mechatronics in Daegu, complete automobiles in Yeongcheon, Gyeongju and Ulsan, shipbuilding in Busan and machinery and metals in Changwon.
Around Pohang, it houses a steel industry cluster where POSCO, Hyundai Steel and Dongkuk Steel are located.
It will have a 4.6 trillion-won state-supported medical cluster : New Drug Development Center, Medical Device Development Center, Laboratory Animal Center, Clinical Drug Manufacturing Center, Communication Center.
It also has an IT and software industry cluster with bases for Samsung Electronics, LG Display and Dassault Systems.
R&D centers supporting new growth industries
The zone has 135 R&D institutions including the Electronics and Telecommunications Research Institute, Korea Institute of Industrial Technology and Korea Institute of Machinery & Materials.
It has two R&D special districts - Daegu Technopolis and Sinseo Medivalley, DGIST and POSTECH.
Rich human resources
There are 52 universities and colleges within the Daegu-Gyeongbuk region and 70,000 annual graduates including 17,000 in natural science and engineering, enter the job market every year.
It has 135 R&D institutions with 4,800 researchers.
Daegu-Gyeongbuk Free Economic Zone Major projects
Daegu Technopolis District

7.26㎢

Establish the inland cutting-edge science belt (special zone for R&D) that connects Daejeon-Gwangju-Daegu by the accumulation of research organizations
Create a future cutting-edge complex city that combined residence, education, culture, and leisure functions

International Fashion Design District

1.18㎢

Plan a synergy effect for the related industries through the advancement, integration, and the creation of a network for the fashion apparel industry
Fully equipped with settlement environment, such as rich tourism, leisure, education, medical facilities

Sinseo Cutting-edge Medical Complex

1.05㎢

Develop new drugs and medical devices and create the best condition for clinical tests by establishing facilities such as clinical test new drug production center, cutting-edge medical device development support center, new drug development support center, etc.

Yeonghceon Cutting-edge Material and Component Industry

1.46㎢

Location

The whole area of ​​Guam-ri, Geumho-eup, Chaesin-dong, Bonchon-dong, Yeongcheon-si, Gyeongsangbuk-do

Project cost

2,062 billion

Business period

2008 ~ 2013

Create Korea's largest material and component industry cluster
Commercialize a cutting-edge technology based on various R&D, such as machine metal, automobile, etc.

Pohang Convergence Technology Industry District

1.48㎢

Location

Dalian and Lee In-ri, Heunghae-eup, Buk-gu, Pohang, Gyeongsangbuk-do

Project cost

3,789 billion

Business period

2008 ~ 2022

Planned population

10,249

Create an R&D specialized district for bio, parts, materials, green energy, etc.
Create 3·4th generation light source connecting facility, green new material developing support facility, and business facility

Gyeongbuk Gyeongsan Knowledge Industry District

3.83㎢

Location

Sowol-ri, Wachon-myeon, Daehak-ri, Hayang-eup, Gyeongsan-si, Gyeongsangbuk-do

Project cost

9,984 billion

Business period

2012 ~ 2022

Planned population

12,938

Constructing machine·parts-specialized complex, cutting-edge medical new material development business
The R&D stopping point for the southeast of Korea and abundant high-quality R&D manpower

Yeongcheon High Tech Park District

1.22㎢

Knowledge-based manufacturing industry specialized district (create a cutting-edge mechatronics industrial district and cutting-edge distribution center for intelligent automobile production)
The center of Korea's largest automobile parts valley
Plan to create a future automobile theme park
Major resident companies
[Japan]KNT

Precision multitasking machines

[Korea/U.S.]Hyundai Cummins Engine Company

Diesel engines for construction machines

[Hong Kong]Hycon Korea

Excavator parts

[Korea/Saudi Arabia/Cayman Islands]Ugint

Machine tool

[Singapore]Assab Steel Korea

Steel for mold components

[Korea/Japan]PNDT

Automobile parts, damper pulley

[Japan] DSSK

Automobile parts

[Korea/Taiwan]LFJ Korea

Automobile mufflers, parts

[Korea/Japan]Hwajin & DIC

Wood grain and interior materials for automobiles

[Korea/U.S.]BPH Korea

Packaging containers and materials for automobiles