Strong FTA networks with major economies
The Korean market is the most attractive business hub in the world. It is the first Asian country that has concluded free trade agreements with the EU(2011) , the U.S.(2012) and the China(2015). It has FTAs with 52 countries in the world as of 2018, and the combined GDP with those countries amounts to 73.5 percent of world's GDP. With the signing of an FTA between Korea and China, global investors are able to occupy the Chinese market in advance through Korea, and Chinese companies can reach out to the world market through Korea.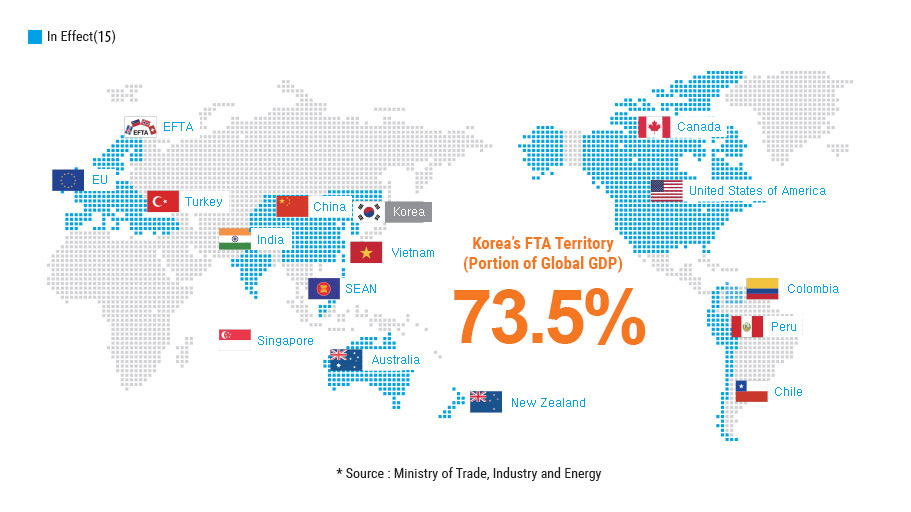 Source : Ministry of Trade, Industry and Energy
World's most innovative country in ICT
Korea ranked first in Bloomberg's 2019 Global Innovation Index among the world's 50 most innovative countries countries in the world. The nation is a pioneer in information and communications technology as well. Korea ranked the second in the International Telecommunication Union's global ICT Development Index among 176 countries in 2017, Such innovative ICT competitiveness offers the best opportunity for convergence in various sectors including finance, manufacturing, logistics, tourism and services. The best examples include successful cooperation between Korean and foreign companies in the manufacture of cars and ships equipped with smart technology. Global research institutes in Korea include Microsoft Mobile Innovation Lab, IBM Ubiquitous Computing Lab, Google Engineering R&D Center, Siemens Medical R&D Center and Institut Pasteur Korea.